LUKAS KOLIVOSKA (SK)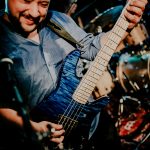 Why Grunt guitars?
Because…
I decided to support Slovak production;
of the selection of quality wood, which is guaranteed by more than 50 years of carpentry tradition and experience;
of the selection of the best sound carrier, such as ash or maple, which comes exclusively from Carpathians;
of the pickup of the great Slovak master Jan Slapak.
The bass is made as a MusicManPrecision with one MM pickup placed more forward. From the very beginning we've conceived the instrument as a "working" instrument, it has to be able to work, it has to be able to earn money, it has to be pleasant, it has to be able to sell itself, it has to be able to assert itself.
These attributes have been fulfilled. The position of the right hand offers great sound options even without the use of equalization by many potentiometers (where you put your hand, that's the colour it has).  If the right combination of wood types is used, a single correctly set-up pickup makes a particular, totally different, but not cheap sound. The approach of the manufacturer Martin Juricek, who establishes true human-wood connection in the production, results in a quality musical instrument.
MATEJ BOBRIK (SK)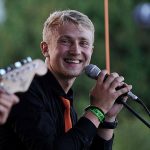 That wonderful feeling when you hold your dream bass guitar when it's still just a couple of boards. The story behind the Grunt brand and their care for wood will assure you that you've knocked on the right door.
I really appreciate that I wasn't just an "order". From the very beginning, we talked about my music genre, my visual preferences, playing style and technique. In areas where I was unsure, Martin always guided me with explanations.
A relationship with an instrument for life.
MAREK SELNEKOVIC (SK)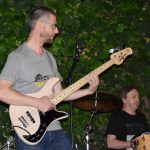 I had this beautiful Jazz Bass made by Martin. Excellent finish, nice wood grain, great workmanship. A big plus for me – 22 frets. As a nice bonus – a case and locks. Super price/quality ratio, willingness to give advice, the bass finished in advance – satisfaction if you have to ask me.
DENIS DANKO (SK)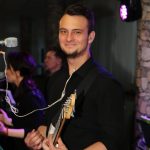 What you give to the instrument, the instrument will give back to you tenfold. It won't forgive you anything, but it will never let you down. The tone you're looking for. A sound that won't be lost. Wherever I've used it, it's still found its place. Precision and reliability, that's Grunt guitars. It's a must-have instrument in my arsenal. An instrument of a modern guitarist with a vintage sound.
JOZEF MARCIN (SK)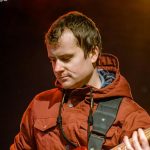 When I first got my hands on the bass, I told myself that if it sounded half as good as it was comfortable to play, it would be great. In over 30 gigs and studio work with it, I've made the most of its music man character, but the one that has its own "stink". Overall, I rate it very high, as it still finds its place in the jungle of genres I'm in. The sound is specific, no deaf spots, and the possibilities of setting it up are very wide. Martin, good job! 50 gigs.
MATUS LASLOFI (SK)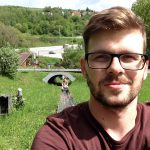 This bass caught my eye at first glance with its unique colour and top board design. I instantly fell in love with its dense tone and endless reverb. The combination of P-Bass and Stingray pickups makes it a wonderfully versatile instrument: it handles everything from motown, through pop, to modern rock and metal. The bass was a perfect fit for me. I'm very satisfied and definitely recommend everyone to give it a try!
STANISLAV HODAK (SK)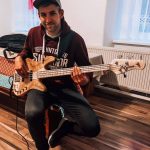 For the last six months, I've had this desire in my head to find a new instrument for myself. After eight years of playing a Fender JB, I started looking for a lighter instrument (weight-wise). I tried instruments from different manufacturers, but none of them had the sound of the Fender JB I was looking for. A friend of mine recommended the website of Grunt guitars from Bardejov. I was impressed by the finished instruments, the origin of the wood, but also the sound presented on the webpage, so I didn't hesitate to contact the manufacturer Martin Juricek. Martin's approach was great. From the very first moment he was willing to help, advise me, and he also invited me to Bardejov to try his instruments, which were in the showroom back then. After two hours of trying out the instruments we sat down at the table and wrote down my idea of the instrument. During the production Martin always kept me informed or sent me a photo of the actual progress of the production. The bass guitar was finished in 3 months. Since the first moment and the first time I played it, I've been extremely satisfied with the bass guitar. Beautiful look, great sound and perfect weight. Professional and precise work by Grunt guitars. I highly recommend it to everyone. Thank you, Martin.
STEFAN PILAR (SK)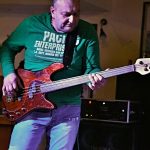 I've owned a bass by Martin Juricek for some time now. Played a few gigs. Excellent workmanship and sound quality. Very comfortable playing. There´s nothing else to add. Excellent instrument with which I am extremely satisfied.
VLADIMIR JEVCAK (SK)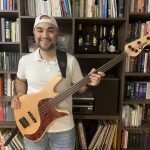 I am a proud owner of a Predator JB Fretless bass guitar from Grunt Guitars. I've known Martin for a long time now and I'm a fan, so I didn't hesitate when he approached me with an offer to build a fretless bass. The bass itself is ergonomically very friendly, has a classic layout and fits easily in one's hand. The Gotoh mechanics is precise, and the Nordstrand single coil pickups along with the rosewood fingerboard create a nice round and midrange tone. As the bass is passive with "singles" the sound output is a little subtle but it's perfectly adequate for my playing – for louder genres I'd recommend one of the Predator "actives". In conclusion – every bass guitar I have tried (and I have tried most of them) from Grunt Guitars is unique and interesting, both in design and especially in sound. I strongly recommend them.
MIROSLAV POKORNY (CZ)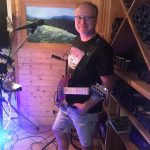 My first impression of the guitar was that it was beautiful and light. The first thing I check is the neck bend, and it was set up perfectly, slightly bowed, adjusted to Elixir strings (10). A new instrument always needs to be adjusted in its own image. I adjusted the string height, the pickups in relation to the strings, checked the tightness of all screws, and changed the strap locks (I use a Dunlop straplock, they are the best). Mr. Juricek was accommodating and put a locking tuning mechanics inside the guitar at my request, then glued a separate fingerboard on a maple neck, and ferraglyde stones for the bridge with a graphite saddle, which I like – I've used for many years and put them all my guitars. This then minimizes string cracking, plus it says graphite prolongs the tone, but that's a matter of opinion. The Grunt guitars company are just serious about the customer and they think about the details. With the guitar you also get a certificate of authenticity, a guitar case with the company logo, a string cloth and a pencil with the logo, strap locks and 3 cards in English about the company, the magic of wood and about the instrument in a beautiful envelope with the company logo on quality paper. It simply seems like you're interested in your customers. And as they say – details matter.